We asked our Facebook fans, "What's your favorite comfort food?" Guess what topped the list? This version is for fans of creamy mashed potatoes. They have a little tang from the sour cream, and best of all — are lower in fat and calories than your typical mashed potato.
Garlic-Mashed Yukon Gold Potatoes with Greek Yogurt & Scallions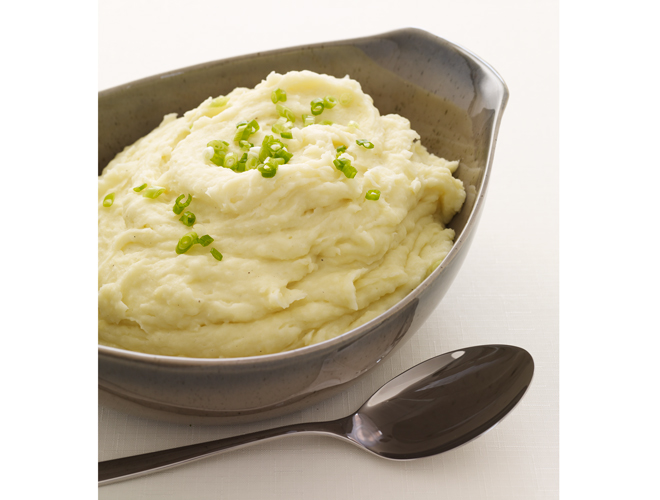 These mashed spuds taste rich and creamy but the tang comes from Greek yogurt, not sour cream, and the golden color and creamy texture come from Yukon Gold potatoes, not tons of butter.
Ingredients
4 pounds Yukon Gold potatoes, peeled and cut into chunks
6 large cloves garlic, peeled
2 1/4 teaspoons salt, divided
1 1/4 cups 2% fat milk, warmed
3/4 cup 2% fat Greek yogurt
3 tablespoons unsalted butter
1/2 teaspoons freshly ground black pepper
1/4 cup sliced scallions
Instructions
Put potatoes, garlic, 1 teaspoon of the salt and enough water to cover them in a large pot. Bring to a boil over medium-high heat.
Reduce heat to medium and simmer until potatoes are tender, about 15 minutes. Drain and return to pot.
Add milk, yogurt, butter, remaining 1 1⁄4 teaspoons salt and the pepper. Mash with a potato masher until smooth. Stir in scallions and spoon into a serving bowl.
http://blog.bedbathandbeyond.com/2012/12/garlic-mashed-potatoes-greek-yogurt-scallions/
Copyright 2012-2013 Bed Bath & Beyond Inc. and its subsidiaries.
The following two tabs change content below.
Latest posts by Above & Beyond (see all)