Easy Creamy Vanilla Bean-Cinnamon Rice Pudding Recipe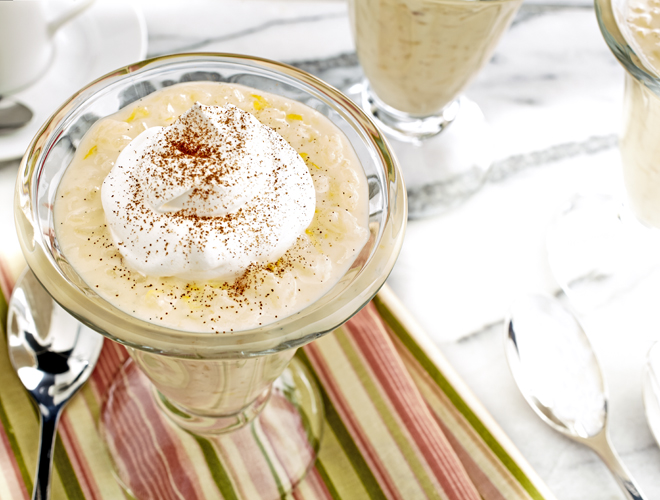 Comfort food dessert style - rich and creamy with a hit of lemon to add brightness. Serve topped with whipped cream and a dusting of cinnamon or nutmeg if desired.
Ingredients
5 1/2 cups whole milk, divided
1 cup long grain rice (not converted)
1 vanilla bean, split
1 cinnamon stick
1 can (14 ounces) sweetened condensed milk
1/2 teaspoon grated lemon peel
Instructions
Bring 5 cups of the milk to a simmer in a large, preferably nonstick saucepan over medium-high heat.
Add rice; stir. Scrape seeds from vanilla bean and add to saucepan along with the pods. Add cinnamon stick.
Reduce heat to low and cook, stirring occasionally, then more frequently towards end of cook time, until rice is tender, about 30 minutes.
Stir in remaining 1/2 cup milk and sweetened condensed milk; return to a simmer and cook over low heat 10 minutes, stirring occasionally until creamy and rice is very soft.
Remove from heat. Remove and discard cinnamon stick and vanilla bean pods.
Stir in lemon peel. Let cool. Serve topped with whipped cream if desired.
http://blog.bedbathandbeyond.com/2014/02/easy-creamy-vanilla-bean-cinnamon-rice-pudding-recipe/
Copyright 2012-2013 Bed Bath & Beyond Inc. and its subsidiaries.
The following two tabs change content below.
Latest posts by Above & Beyond (see all)