"Please Make Me!" Peanut Butter-Chocolate Chip Icebox Cake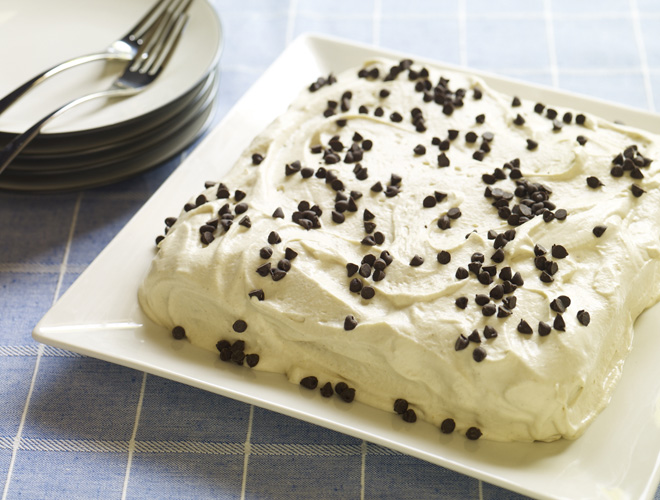 Why "Please Make Me?" This easy and amazing retro dessert deserves a revival! Fluffy peanut butter whipped cream creates decadent and delicious cookie layers in this impressive-seeming, make-ahead, no-bake treat. Sounds kind of perfect for a summer party no?
Ingredients
1 cup creamy peanut butter
1/3 cup confectioners' sugar
1/2 teaspoon table salt
2 cups heavy cream
1 teaspoon vanilla
36 chocolate wafer cookies (such as Nabisco "Famous Chocolate Wafers")
3/4 cup mini chocolate chips
Instructions
Line an 8"x 8" baking pan with plastic wrap. Use an electric or stand mixer to combine peanut butter, confectioners' sugar, and salt in a large bowl. Add heavy cream and vanilla and whisk on low until mixture is incorporated and begins to thicken. Slowly increase speed until peanut butter whipped cream has soft peaks. Spread a thin 1 cup layer on bottom and sides of lined pan. Place 9 cookies in pan (3 x 3). Spread with a thin layer of peanut butter whipped cream until just covered. Sprinkle 2 Tablespoons of mini chips evenly over layer. Repeat with another 2 layers of cookies, peanut butter whipped cream, and chips. Finish with a 4th layer of cookies and a layer of peanut butter whipped cream (no chips).
Cover tightly with plastic wrap and press down lightly. Store cake and remaining peanut butter whipped cream in refrigerator overnight. When ready to serve, remove plastic wrap, place a large platter on top of the pan, and flip over to unmold cake. Remove the plastic wrap that was lining the pan and spread remaining frosting over the surface of the cake. Garnish with remaining mini chips and keep chilled until ready to serve.
Notes
Plan on 20 minutes of prep time, plus overnight to chill and soften cookies.
http://blog.bedbathandbeyond.com/2014/06/please-make-peanut-butter-chocolate-chip-icebox-cake-recipe/
Copyright 2012-2013 Bed Bath & Beyond Inc. and its subsidiaries.
The following two tabs change content below.
is a recovering engineer turned chef. She develops recipes and writes about cooking, entertaining, and health for Bed Bath & Beyond, WeightWatchers, FitPregnancy, and others, looking for the spot "where Healthy meets Happy." Julie shares a small urban condo with her 2 little girls, 2 chubby guinea pigs, and 1 very patient husband. You can find her on Twitter @cookingwjulie.
Latest posts by Julie Hartigan (see all)