Christmas Dinner Menu Ideas
Hosting Christmas dinner is an on-again, off-again thing in my household. Every year is a negotiation among friends and family: Who is eating where? Who is leaving town? Who wants to cook? Who's thinking about just getting some Chinese take-out?
That means I don't have a go-to menu for the years when I do decide to host. I like to find new recipes and try new dishes — while maintaining tradition, too.
Here are some Above & Beyond recipes I'm thinking about trying — or returning to a second (or third) time.
Sweet & Spicy Glazed Nuts with Cranberries and Rosemary
I have had these 3 times now. They are, as promised, addictive. Also sticky, so I'll have extra napkins on hand. They make a great starter with a glass of wine before the meal.
Roasted Turkey Breast Wrapped with Bacon & Sage
There are only going to be a few of us this year, so there's no point in making some giant roast or 20-pound turkey. A turkey breast is just the right size, and a healthier option, too. (I prefer to get my calories from the side dishes and dessert.) This one is wrapped in bacon, which keeps it moist and adds lots of flavor.
Stuffing with Mushrooms, Onions & Walnuts
Just because I don't have the whole bird doesn't mean I can't have the stuffing. I love this one, which I tried at Thanksgiving. The walnuts are a really nice surprising crunch.
Roasted Brussels Sprouts with Bacon and Maple-Balsamic Drizzle
I'm fairly brussels sprouts-neutral — I think they're fine, but I don't get excited about it. But some members of my family go crazy for them. I figure I can make everyone happy with this recipe. It has bacon in it — good enough for me. (Do you notice a trend here?)
Garlic-Mashed Yukon Gold Potatoes with Greek Yogurt & Scallions
These. Are. So. Good. I made them at Thanksgiving, and they are super-creamy and tangy and totally addictive. Apparently, they're healthier than "regular" mashed potatoes (because they don't have butter and cream), but you wouldn't know it from the taste. I'll make it up in portion size (MORE! MORE!).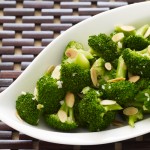 Broccoli with Garlic, Ginger & Toasted Almonds
It's broccoli. Only interesting.
Maple-Glazed Sweet Potato Wedges
This was a request from a family member who reads the blog. How can I say no, especially since they look so good and so easy?
That's a lot of food for a small group, but I enjoy the abundance when I entertain for the holidays. Add in some wine and a couple of ginger bread men, and we'll be patting our bellies and moaning happily at the end of the meal.
What's on your menu for Christmas this year? Do you prefer traditional dishes, or do you mix it up? Let us know it the comments below.
---