Shop-Talk: 7 Must-Know Facts About Picnic Baskets & Totes
One of warmer weather's little pleasures is definitely an afternoon picnic. There's nothing quite like noshing on sandwiches and sipping lemonade in the great outdoors. (No ants, birds, or fuzzy forest creatures need apply.)
But packing up your nibbles in grocery bags doesn't have quite the same allure as carrying them to the park in a classic picnic basket. Before you score your own, check out these must-know facts.
1. One size does not fit all. There's a wide selection of baskets designed to suit the size of your group. Before you choose one, take into consideration the number of people you're going to feed: Are you looking to pack lunch for 12, or are you just having a romantic picnic for two?
Pictured: Barrel Picnic Basket–perfectly sized for two.
2. Watch your weight. Worst case picnic scenario–you've packed a fabulous meal and ready to go, but you can't lift the basket to save your life. Make things easier by choosing a lightweight carrier. You may still have to put a little muscle into it (deviled eggs are surprisingly heavy), but it won't be because the basket's material is weighing you down.
Pictured: Picnic Time® Mercado Insulated Picnic Basket Tote
3. Not every picnic basket is made of wicker. Baskets come in bamboo, willow, rattan, polyester and even canvas.
4. It's all in the lining. A lining can serve several purposes. It can insulate, protect, or just be a pretty surprise when you open the lid. If you plan on packing foods that could spoil, go for a picnic basket with an insulated lining. Want something easy to wipe down? Opt for a canvas lining over a corduroy one.
Pictured: Picnic Time® Topanga Insulated Cooler Tote
5. Not every closure is created equal. Worried about keeping critters out of your potato salad? Make sure the basket you pick has a secure closure. Try a picnic basket that closes with a latch, hooks, a zipper, or even a drawstring.
Pictured: Picnic Time® Metro Basket
6. Some baskets come with everything. Gone are the days when you needed to purchase plastic plates and utensils. Today's picnic baskets come with just about everything. Before you start shopping, decide which  add-ons you need: Many baskets come with the basics like plates, utensils, glasses and fabric napkins (and built-in straps or pockets to keep them in place). But others also come with a picnic blanket, corkscrew, salt and pepper shakers, food containers, or a wine duffel. Maybe one day somebody will make a model with an actual kitchen sink…but we're not there yet.
Pictured: Windsor Picnic Basket
7. You can carry a picnic basket on your back. Sounds crazy, right? Not if you eschew the traditional woven basket for a picnic tote. These nifty insulated carry-alls have straps like a backpack. The upside is you're hands-free. The downside? You may not have the space to pack as many goodies as you would with a standard picnic basket.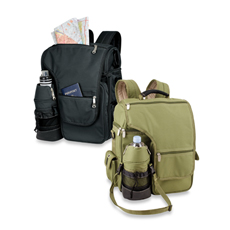 Pictured: Picnic Time® Turismo Insulated Backpack Cooler
Now: Tell us about your picnic plans for the summer below!
---